Testing Connections
How many Pro AV manufacturers do you know put their money where their mouth is when it comes to how many end points they can support? If none come to mind, I give you, IDK Corporation.
Based in Yamato, Japan, IDK Corporation partnered with NETGEAR to test a 4K60, 10G, AV over IP system using IDK's NJR-T01UHD (transmitters), NJR-R01UHD (receivers), and NJR-CTB (control box) all connected via fiber to a stacked series of NETGEAR's M4500-32C 100G and M4500-48XF8C 10G switches.
Both IDK and NETGEAR are longtime members of the SDVoE Alliance and took this opportunity to show a proof of concept to clients and end users looking to deploy a 10G AV over IP solution. The NETGEAR M4300 (10G) and M4500 (100G) come preconfigured, out of the box, to support our IP-NINJAR line of products. The convenience of this "plug and play" solution will drastically cut down on the amount time needed to configure a network switch as well as create less headaches for the system integrator when it comes time to power everything up. On the IDK side, each node can easily and independently be configured using the WEB GUI provided by our control management platform. Users can manage the EDID settings, enable/disable HDCP, and upscale/downscale video resolutions to meet various requirements on each project.
For this connection test, IDK supplied 320 endpoints, 160 transmitters (NJR-T01UHD) and 160 receivers (NJR-R01UHD), while NETGEAR provided one (1) 100G Core Network Switch (M4500-32C) and eight (8) 10G Edge Network Switches with a 100G uplink port (M4500-48XF8C). One of the main advantages to AV over IP is the ability to break away from a fixed frame chassis matrix switcher, and create a truly versatile, scalable AV system. What this test system demonstrates is IDK's ability to monitor, manage, and control a large population of end points successfully as well as NETGEARs ability to route and manage a large amount of multicast traffic to the correct destination.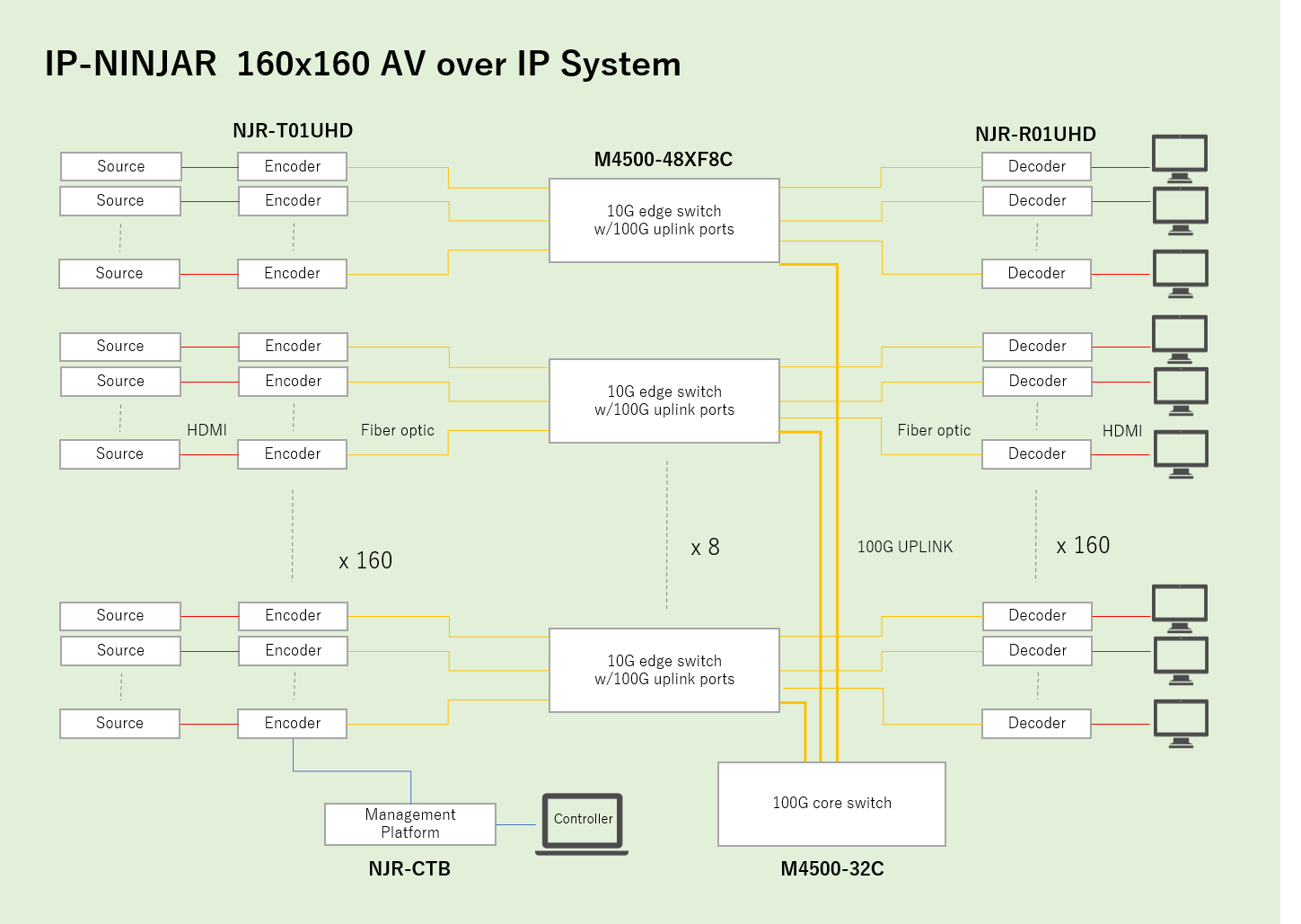 IDK has deployed a number of IP-NINJAR systems around Japan, the USA, and Europe, both big and small, for corporate, healthcare, education, and government clients. In this recent connection test video, IDK demonstrates its role as a technology leader in the Pro AV industry and its continued commitment to making bigger and broader leaps in the world of AV over IP.