Resources
Recent industry articles provide context for the mission of the SDVoE Alliance.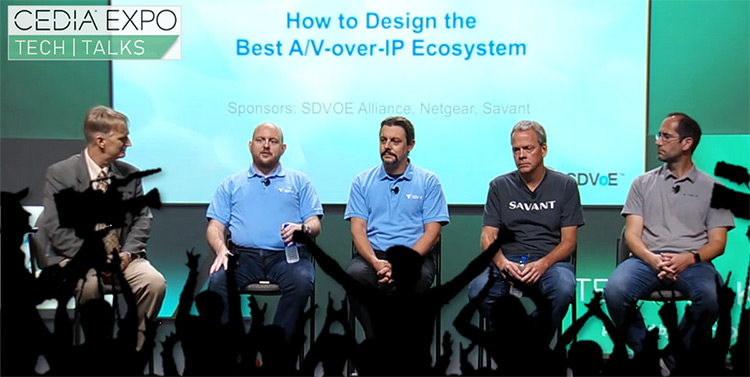 A/V Switchers are 'Dying Because of Cost and Scale' as IP Video Thrives
Published by CE Pro
In this CEDIA Tech Talk,  Jason Knott, editor of CE Pro, asks the panel tough questions about "How to Design the Best AV Over IP Ecosystem".  Representatives Justin Kennington of the SDVoE Alliance, Laurent Masia of NETGEAR, Tim Locascio of Savant and Matt Lavin of Metro 18 share their insights. Julie Jacobson, producer at CE Pro, gives an overview of the session.
SDVoE Alliance Demonstrates AV and IT Convergence
Networked AV Systems: It's time to clean house.
Published in Sound & Communications
Christie senior product manager Karl Johnson speaks out about simplified system architectures. Read the article »
130% AV over IP sales increase presages industry 'revolution'
Published in Installation
Editor Paddy Baker reports on a Futuresource Consulting study and quotes research analyst Anthony Brennan, "The low barriers associated with AV over IP are allowing smaller companies to compete directly with these large enterprises, merging the worlds of IT and AV, placing software solutions at the heart of the AV industry and fostering innovation and competition. For savvy vendors equipped with the right market information, the scale of the opportunity is enormous."
Read the article »
[Video] Latency Matters in Pro AV Applications
SDVoE Alliance president Justin Kennington walks you through our codec shoot out at InfoComm 2017, where you see four monitors showing the same 4K PC desktop run through a splitter and then through four different codecs: SDVoE (based on AptoVision BlueRiver technology), MJPEG 2000, VC-2 and H.264. Quality and latency are compared.
SDVoE Looks Ahead
Published by Sound & Video Contractor
In a wide-ranging interview with editor Cynthia Wisehart, SDVoE Alliance president Justin Kennington addresses the issues and opportunities facing the pro AV industry and details how the alliance is helping AV professionals chart their path. Read the article »
[Video] The Death of the Matrix Switch
Published by AVNetwork
Editors of AVNetwork noted that there is a major transition happening right now in proAV and they recommend watching this video of SDVoE Alliance president Justin Kennington to learn more about packet switching and the AV-over-IP approach." Watch the video »
Will InfoComm 2017 Hasten Rise of AV-over-IP, Death of the Matrix Switch?
Published by Commercial Integrator
AV-over-IP standard alliance SDVoE and its members are predicting the death of the matrix switch as they prepare for InfoComm 2017. Editor Tom Leblanc asks the question "Is this a sensational claim or an accurate market perception?" In this video, SDVoE Alliance president Justin Kennington explains. Watch the video »
Economies of Scale — Decentralizing Value with Software Defined Video Over Ethernet
Published in Systems Contractor News
As the pro AV industry makes its transition away from propriety matrix switches toward a world of IP-based distribution, opportunities are opening up in the new ecosystem. Read the article »
The Value of Standardized Infrastructure — Thinking Beyond the Transport
Published in Sound & Communications
Software Defined Video Over Ethernet is simply the foundation for a whole new world, where software defines the application and the AV industry's creativity can finally be unleashed. Read the article »
True Convergence – AV and IT on the Same Network
Published in AV Technology 
Uncompressed, zero-latency 4K transmission over IP is here now. Read the article »
Ethernet – The New Old Standard
Published in Sound & Communications 
Now that the transition from analog-based AV distribution to digital is complete, a transition from point-to-point matrix switches to Ethernet switches is inevitable. Read the article »
Here's the Answer to Truly Converging AV/IT Networks
Published in Commercial Integrator 
In order to truly converge AV and IT networks, the capacity of the data network needs to be upgraded. 10 Gbps infrastructure is the solution. Read the article »