SDVoE specifications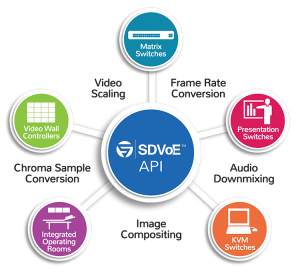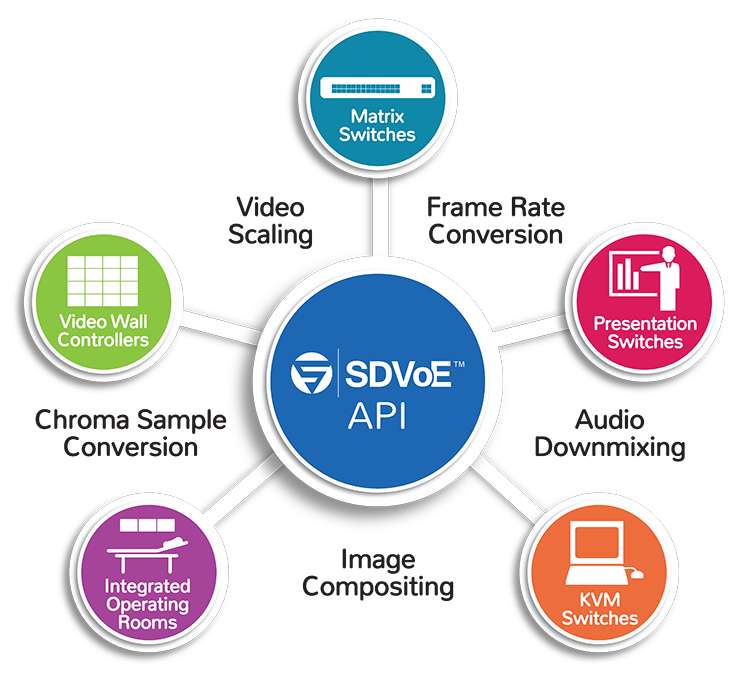 SDVoE technology is:
The most widely adopted networked AV standard in the industry, delivering HDMI over Ethernet with zero latency
The only turnkey solution for zero-latency AV over IP available to AV equipment manufacturers
A full stack solution, clearly specifying an approach to every layer of the OSI network model, from the physical infrastructure to an application programming interface (API).
A comprehensive API that provides a simple interface to control complex tasks like video routing, scaling, aspect ratio management, video wall processing, image compositing, audio downmixing, and much more.
Performance specifications
End-to-end transport latency under 100 microseconds (under 1/150th of a video frame)
Fully uncompressed transmission for all HD and 4K30 signals
Artifact-free transmission of true 4K60 (4:4:4), indistinguishable from original source
Basic feature support
HDMI video transmission up to full 4K60
Multi-channel audio transmission and independent audio routing
RS-232 and infrared control
1 Gbps embedded Ethernet for compressed video or other data
Optional features (product specific)
Broadcast-quality upscaling and downscaling with aspect ratio management and frame rate conversion
Display wall processing with bezel compensation and microsecond synchronization
Multi-image compositing and display
Multichannel audio downmixing to stereo
Interoperability
The technology that underlies all SDVoE products is the same – the SDVoE API, SDVoE clock resynchronization and SDVoE session management. This ensures that devices from different manufacturers are interoperable by design. AV traffic, as well as control, pass seamlessly from one to any other, and the unified API allows software built on the SDVoE platform to control all functions of any SDVoE core hardware.
As with any application platform, some application developers may target specific hardware with specialty capabilities and choose to "lock" their application to a particular subset of SDVoE devices. This practice is neither endorsed nor prevented by the alliance.
Stay
informed
Keep up to date on SDVoE Alliance news and events. Subscribe to our newsletter.