Throughout this blog series, we've looked at how Semtech's BlueRiver® ASIC platform enables a broad range of Pro AV applications, and as the core chip technology that powers Software Defined Video over Ethernet (SDVoE™), is accelerating the adoption of AV-over-IP in the professional AV industry. (Read Parts 1, 2 and 3.) In part four of the BlueRiver applications for Pro AV blog series, we're going to continue the theme around the lower power and reduced footprint of the BlueRiver ASIC solution, which makes it ideal for integration directly into end equipment, HDMI wall plates and Smart Display Modules, while also reducing equipment costs and the environmental footprint of the final AV system.
When compared to FPGA-based AV-over-IP solutions, using the BlueRiver ASIC can substantially reduce power consumption — typically to less than a third of what an field-programmable gate array (FPGA) consumes, sometimes even lower, depending on the feature set and product requirements. In the diagram below, I'm showing the typical way end equipment is connected into the SDVoE network using a dedicated SDVoE transmitter and receiver endpoint. By integrating the BlueRiver chipset directly into the end equipment, in this case, the media server using a standard PCIe card, and an SDVoE plug-in card for the projector, there's less hardware and cabling required, and the overall system is simplified.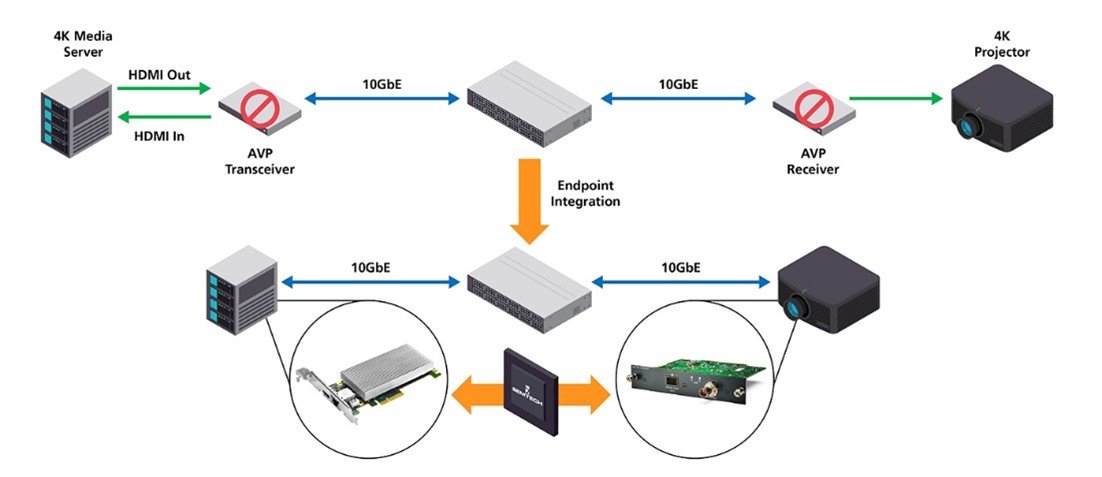 Direct ASIC Integration Into End-equipment Example
Integrated solutions are fully backwards compatible with existing endpoint-based solutions, while reducing the amount of equipment required, perfectly illustrating the reduced environmental footprint and ultimately, lowering system costs.
BlueRiver for HDMI Wall Plate Applications
Here's a clever, highly integrated application that takes advantage of the reduced power and smaller footprint of an ASIC-based solution. The diagram below shows a bidirectional HDMI wall plate in an application that allows resource sharing between rooms by networking all AV devices via this simple wall plate design. Just two rooms are shown here, but there could many, all connected via the 10G Ethernet network. Here, we're utilizing the BlueRiver AVP2000T AV Transceiver, which is a truly bidirectional single chip transceiver, capable of both transmitting and receiving HDMI up to 4K60 in both directions simultaneously.

Bidirectional HDMI Wall Plate Application Example
Full 4K content can be sent to and from one room to another: in this example in room 1, there is a PlayStation 4 (PS4), and in room 2, an Xbox One. Both these devices can be routed via the network to the local displays or reversed such that someone can be playing on the PS4 in room 2, and someone else playing the Xbox One in room 1. Instead of unplugging the gaming consoles and physically moving them between rooms, using software control via a touch panel controller, for example, the user simply selects source "PS4" to connect to "Room 2." At the same time, behind the scenes, the AV control software connects the USB gaming controllers between the two rooms. This is all achieved through the powerful yet simple SDVoE API.
Under the Hood
In this scenario, the bidirectional HDMI wall plate uses the flagship AVP2000T transceiver device, which means that the wall plate is both an SDVoE transmitter and receiver at the same time, with both HDMI input and output connected to a single BlueRiver ASIC. The very nature of Ethernet networking is that it's full duplex: that means up to 10Gbps in both directions simultaneously. Users can take full advantage of that in the BlueRiver chipset by enabling both the HDMI transmitter and receiver functionality at the same time.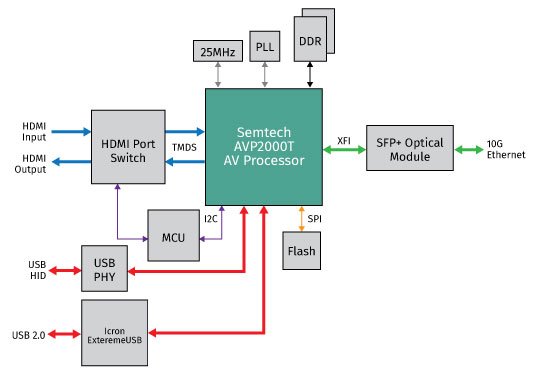 AVP2000T-based SDVoE Transceiver Core Components
As discussed in part 1 of this blog series, USB connectivity is provided directly to the BlueRiver device, and where simultaneous USB device and host connectivity is required on the wall plate, the AVP2000T can be paired with an Icron ExtremeUSB® device from Analog Devices. This means users can assign USB host connectivity to the Icron device and USB device connectivity via the native USB HID port, which is perfect for the HDMI wall plate application shown above, for connecting the gaming controllers to the remote gaming systems.
From the SDVoE Ecosystem
Aurora Multimedia make two highly integrated HDMI wall plates: the 3-gang transceiver IPX-TC3A-WP3-Pro advanced HDMI wall plate, and the 2-gang IPX-TX3A-WP2-C transmitter wall plate. Both wall plates, pictured below, are a perfect example of how integration of the BlueRiver ASIC delivers a compact, fully featured wall plate design, allowing AV installers to seamlessly adapt any room into a powerful fully networked SDVoE system.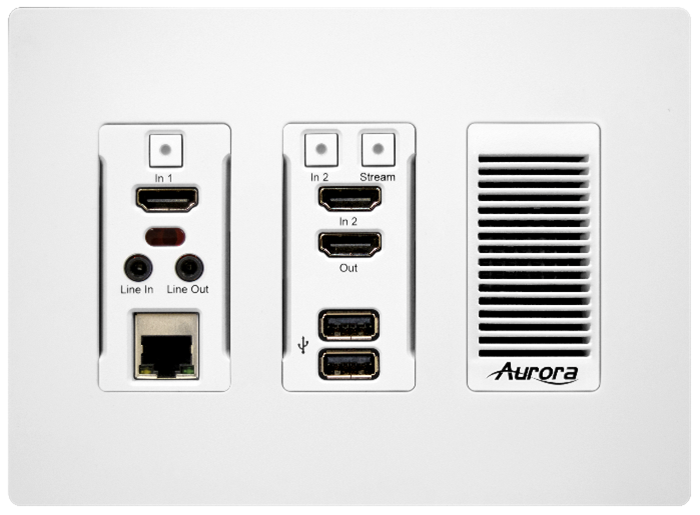 Aurora Multimedia IPX-TC3A-WP3-Pro Advanced IP Streaming HDMI Wall Plate Transceiver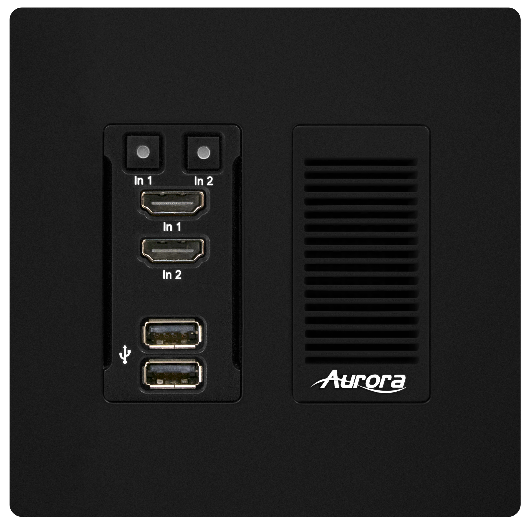 Aurora Multimedia IPX-TX3A-WP2-C Advanced IP Streaming HDMI Wall Plate Transmitter
Aurora's HDMI wall plates provide some of the most advanced IP streaming solutions on the market utilizing SDVoE technology, with support for USB 2.0 and Dante® Audio, for a more complete distributed AV system.
BlueRiver for Smart Display Module (SDM) Applications
The Intel® Smart Display Module product concept really opens the choice of AV input options for standard displays, with display manufacturers simply providing the SDM card slot on their products to be populated at deployment with the SDM input interface required by the installation. Taking full advantage of the BlueRiver ASIC in the SDM small form factor, the power and flexibility of SDVoE can be enabled on any standard SDM-based display product, for direct and seamless connection to the AV-over-IP network.
As shown in the following diagram, the SDM display connects directly into the SDVoE ecosystem via the Ethernet switch, providing zero-latency, uncompressed quality video distribution directly to the display, and reducing the system hardware footprint. The SDVoE API automatically discovers and enumerates the displays for quick and easy integration into third-party AV control systems.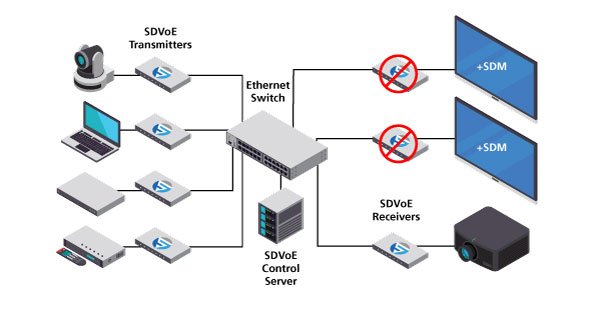 SDVoE with SDM Displays System Example
Enabling Advanced Features
As explained in part 3 of this blog series, BlueRiver for Video Wall and Multiviewer Applications, the powerful integrated image processing engine in the BlueRiver ASIC can enable cost effective video wall and multiviewer applications, removing the need for costly dedicated equipment, while still delivering a high performance, low latency IP-based AV distribution system. Integrating this advanced functionality into the SDM form factor allows display manufacturers to deliver simple display solutions that can be upgraded to fully featured, self-contained video wall and multiviewer solutions by simply plugging in a BlueRiver-based SDM card.
In the following diagram, SDM-enabled displays are taking advantage of the fully integrated BlueRiver video wall processing feature, removing the need for a costly dedicated video wall controller and four standalone SDVoE receivers, again, helping to reduce the system hardware, power and footprint. All video wall configuration and control is provided via the SDVoE API.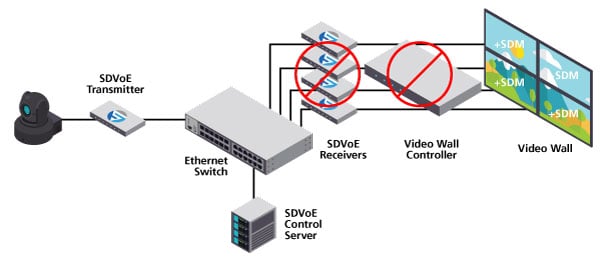 SDM Video Wall Application Example
Integrated SDVoE multiview functionality enables up to 32 sources on a single display, supporting common multiview layouts such as picture in picture, picture by picture and quad split. The following figure shows how integrating this multiviewer functionality via SDM simplifies system configuration, reduces Ethernet switch port count and reduces cabling costs, on top of removing dedicated and costly multiview processor hardware.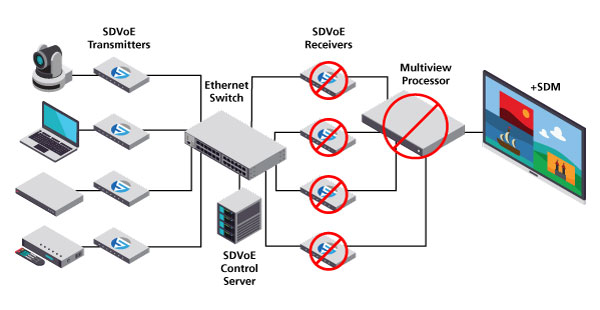 SDM Multiviewer Application Example
Under the Hood
For the most basic SDVoE-based AV switching and distribution, the SDM card can use the AVP1000, and with only a handful of major components, the SDM-S (small) form factor can be used. The AVP1000 is the lowest cost device in the BlueRiver portfolio of parts, designed specifically for low latency AV switching and distribution where AV processing features are not required.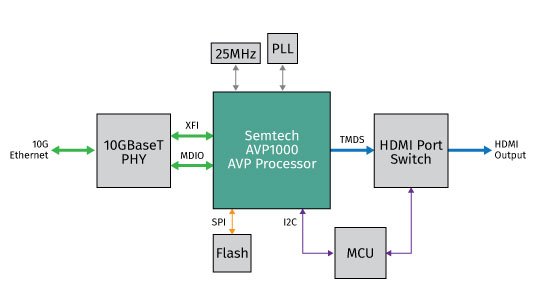 AVP1000-based SDVoE SDM Receiver Core Components
Upgrading to the AVP2000 enables the powerful and flexible BlueRiver processing engine for fully integrated video wall and multiviewer functionality integrated directly in the SDM-based display.
From the SDVoE Ecosystem
Shown in the picture below, the SDM-SDVoE-R SDVoE Receiver from Apantac is the first SDM product fully supporting direct integration of SDVoE connectivity in displays, with the following features:
SDM-S small form factor pluggable module
10GBaseT SDVoE interface
HDMI 2.0/HDCP 2.2/1.4
4K/UHD RGB/4:4:4 8-bit, 4:2:0 10-bit and 12-bit HDR
CEC pass-through
Up to 8 channels of audio, including PCM, Dolby True-HD and DTS-MA
Networked for RS-232 for display setup and control protocols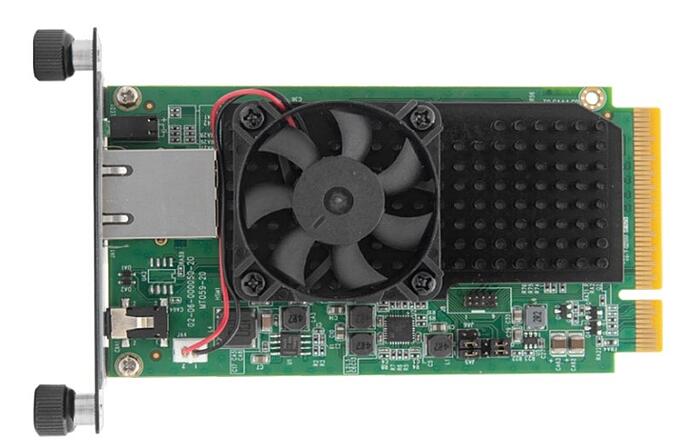 Apantac SDM-SDVoE-R SDVoE Receiver
With the SDVoE SDM module from Apantac, display manufacturers can instantly open their product portfolio to the SDVoE ecosystem and join the growing community of developers and adopters looking to deliver high performance, fully integrated AV-over-IP systems at lower cost points.
Evaluate BlueRiver Technology Today
Comprehensive reference designs supporting both copper and fiber connectivity are available from Semtech, allowing end-equipment manufacturers and software developers to quickly evaluate the powerful performance and advanced features of BlueRiver AV-over-IP technology, and expand the SDVoE ecosystem with highly integrated product offerings.
In the next and final installment of the BlueRiver applications blog series, we'll take a look at how Semtech's world class SDI solutions can be paired with BlueRiver technology to enable SDI-over-IP applications. You can learn more about the power and flexibility of BlueRiver solutions for SDVoE in the webinar, "BlueRiver Applications for SDVoE," and why key Pro AV applications, from matrix switch replacement to full end-point integration require the power and flexibility of SDVoE at the Semtech Professional AV Applications webpages.