Episode 6 – Why Samsung Chose SDVoE over a Matrix
The Samsung KX experience center in London employs the largest curved LED wall outside of South Korea. The entire Samsung brand is represented by the quality of image on that screen. Come learn why the system designers trusted SDVoE as the technology to express this massive manufacturer's reputation.
Catch new episodes of SDVoE LIVE!
every second Tuesday at 1 p.m. ET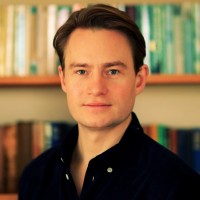 Episode guest
Charlie Sullivan
Head of Business Development – UK & Ireland, ZeeVee
Episode transcript
Justin Kennington (00:09):
Hello and welcome, everybody. I'm your host, Justin Kennington and this is SDVoE LIVE! – TV for pro AV. Thanks everybody for joining us. We've got a different kind of episode today than we've had these past few months. Everything to date has been very theoretical and based around a technical topic. What is 8K?, What is a network?, What is HDR? Today, we're going to talk a little bit more hands-on, a little more real world. We're going to talk to you about an SDVoE installation at the Samsung KX Center. That's at King's Cross in London. It's a retail space, but it's much more than a store. It's a place that Samsung wanted their customers and fans to be able to experience their brand, experience their technology, and be able to have a really powerful interactivity. You can imagine that image quality is very important to a user like Samsung, where featuring some of their high-end displays is the purpose of the facility.
We're very proud that Samsung chose SDVoE technology, as built and implemented by ZeeVee, one of the founding members of the SDVoE Alliance. Today, we have a special guest, Charlie Sullivan from ZeeVee, who helped to drive that installation. He's going to explain to us a little bit about how it all came together and why SDVoE was such a powerful technology choice for an installation like that. But before we dig into all of that, let's remind you of a few things you need to know. We want you to reach out to us on Twitter at #sdvoelive. We want to hear from you in the chat box, which you can reach right down there under your screen below my feet, so don't miss that. We'd also want you to make sure and catch the aftershow. Right after our 30-minute program is done, all you have to do is sit right where you are and don't touch anything.
You'll have Matt, Charlie, and myself available to take your questions live and interact with us. We can't wait to hear what you've got. Speaking of Matt, he's my co-host for the show, head of education for the SDVoE Alliance. Coming up after a short quiz question, you're going to hear from Matt who's going to introduce our video for today.
Matt Dodd (02:48):
Hi, everybody. Matt here, me again. What's great about this is that the Samsung Experience Centre is actually in London, England. Don't you know? It's here in good, old Blighty. Looking forward to hearing from Charlie very soon. What we've got here for you is a snippet of a video from the SDVoE Academy course "Why Uncompressed and HDR Matter at the Samsung Experience Centre". It gives you a feel for the work that went into making this incredible installation happen. It will introduce you to Charlie and also Kevin Madeja from Snelling Business Solutions who did the integration. Check this out!
Charlie Sullivan (04:04):
It's a versatile space with the world's first 10-meter LED vertically curved screen, which was a hell of an install from Snelling's, powered by ZeeVee's ZyPer4K. It needed to be versatile. It needed to be flexible. It had the ability to transform into a lecture hall, a conference center, an art and design space, to show films, e-gaming tournaments, and highlight the latest entertainment and lifestyle products as well. Their objective really was to showcase Samsung's most innovative display technologies. That was number one. They also were showcasing a lot of their other products, the entertainment and lifestyle products as well, but really, they needed the optimum image quality with the lowest latency, sending any source to any display across their network at any time. The challenge that we had here was to be able to be fully flexible.
This is an event space. There are multiple different clients, multiple different events that are going on here daily, hourly, so it needed the versatility to be able to flip and change in a hair's breadth, but they needed uncompromised image quality, true pixel-for-pixel 4K60 4:4:4 and HDR10+, and that was outlaid from day one. Uncompressed video was an absolute must here. Whether they were hosting a yoga class, an e-gaming tournament as you can see here, or a conference, it needed that flexibility and versatility as well. The ZeeVee solution that we put forward here was a ZyPer4K SDVoE solution. We have over 100 fibre endpoints across one Cisco network, which Kevin will go into a bit more detail on. Uncompressed 4K60 4:4:4 HDR10 was an absolute must, and obviously, the lowest latency possible to go from any source to any display. It's also Europe's largest HDR10 install, which we're very proud of, and also, it has the ability to be able to be flexible, to be able to add a source, to add a display at any time being AV over IP.
We also needed the ability to be able to scale to the 10-meter vertically curved screen, which was a challenge in itself. Due to the scaling engine in ZyPer4K, we were able to do so. We also had versatility in our formats. So we had HDMI in, we had DisplayPort, multiple different formats as well, which really helped the client. We also have fanless decoders, so there are no temperature constraints whatsoever, easy installation as well. A ZeeVee management platform really allowed for a very simple setup, configuration, and control of the system, which can be controlled via any third-party device.
Kevin Madeja (06:55):
Why did we end up choosing this? We worked with Hoare Lea (consulting firm) on this as well as Samsung. Number one, it supports HDR10+, very important. We needed that additional bandwidth, those additional bits that needed to be transmitted. We wanted uncompressed picture quality. We didn't want any artifacts. We're selling televisions and displays so we don't want anything to interfere with that or possibly interfere with the picture quality. Charlie mentioned we did take care of, in certain circumstances, the scaling ability in some of the decoders so we could actually use or run some sources that were originally 4K at 1080p for certain monitoring situations. The other real important thing and certainly for the ScreenMax. That's a picture of it there in what we call the graffiti wall mode.
You can see there, there are some spray cans. They're not really spray cans. They're actually Galaxy phones that look like spray cans, and it allows you to do an interactive painting on the LED screen. So it's all virtual, but what we couldn't have is more than about two frames of latency because you would have that disconnect between them when you press the button and then motion and when it appears on the screen. So that was absolutely key for this application, iit's super low latency, and the ZyPer4K did a great job with that for us.
Matt Dodd (08:39):
Hello, young man.
Justin Kennington (08:42):
Cool. Hello, Matt. I am glad that we did our HDR course before this. Hearing them talk about how important HDR10+ was to this install, I'm glad that our faithful audience is well-versed in precisely what that means.
Matt Dodd (08:54):
They all know exactly what they're talking about, absolutely. There's some good stuff. We should save questions on that for Charlie later.
Justin Kennington (09:24):
This was an interesting archival piece, the last trade show any of us have ever been to, I think. Speaking of which … let's get to the news.
Matt Dodd (09:34):
Right, the first news item. InfoComm USA is being delayed. What are your thoughts on this?
Justin Kennington (09:44):
I can't say it came as a surprise. I think it would have been a struggle for that show to go off in a successful way in June. It certainly makes for an interesting and challenging thing for us exhibitors to manage a show in October instead. But I'm very hopeful that we'll have the same kind of audience that we've come to expect, the same kind of impact that this show can have. I hope it goes off well for us all.
Matt Dodd (10:12):
Guys, tell us what your thoughts are on this.
Justin Kennington (10:19):
I'm really curious to know what you guys think. Are you going to be there? Should we bother? If you guys are all canceling, then what am I doing there?
Matt Dodd (10:26):
Exactly. I can't wait to see what everyone's saying about this. I think it's realistic that certainly from our perspective that by October, that it's more realistic that wheels are going to be up and people are going to feel more confident about trotting around all over the place. It's a shame it's happened, but hey, at least there is hope at the other end of it. But let's see what you guys say.
Matt Dodd (11:26):
Let's press on. Give us your thoughts, guys. Pop it in the chat box. Let's hear from you.
The next news item, Justin, interesting one this. Naturally, there have been touch panels and help displays in museums for a long time, but I think we were ready to take this to the next level. We have very high resolution, really interactive displays now over networks. This is an opportunity to not only make the whole experience more interactive for the people going to these places, but it pulls at my heartstrings here. It really makes the educational piece very, very interesting. Not only that, it's going to save a lot of money for the people who are running these places because why have people there stamping tickets and what have you, when it can all be done through interactive touch panel displays.
Then there's the walkthrough. You get to a museum, they give you a little unit which you can put into your ear and select your language. What's your take on this, Justin?
Justin Kennington (13:01):
I think you're right to point out that museums have been doing this for a while, that's why to me, this particular item was a nice tie-in to a few things we've been talking about and are about to talk about here on the show. Make sure you check the resources in SDVoE Academy for the news article links. You can click and read the article for yourself, after the show of course.
Justin Kennington (13:22):
Museums have been at the forefront, I think, of this interactive experience driven through displays and touchscreens and an AV experience. We're starting to see that transition now in other areas, and big retail environments come to mind. Apple has built an industry on being an experiential store, and this is precisely what Samsung is doing with the KX center, where it's actually not a store. You actually can't even buy things at Samsung KX. You can go. You can experience the brand. You can have your devices repaired if you need that. They do provide service, but not even sales there. It's because of the way AV can create these really engaging experiences.
Justin Kennington (14:11):
It ties in to what we said last week about 8K. Why does such super high resolution matter? How far do you have to be from a screen to see 8K pixels? What if I'm this far from a screen and then suddenly that really does matter?
Matt Dodd (14:26):
And what happens next when we go to holograph, the real 3D virtual experience? This is paving the way to really make that user experience something special when you're watching and looking at artifacts and things in a museum and being able to experience it in a different way, a different visualization from just watching something on a 1080 panel. It's very exciting.
Matt Dodd (15:00):
We have this guy waiting behind the scenes. Charlie. We saw him not that long ago in a little clip, but I think without any further ado, JK, if you don't mind, should we bring him in?
Justin Kennington (15:13):
Let's get him.
Matt Dodd (15:43):
Thanks for joining us.
Charlie Sullivan (15:44):
How are you, chaps?
Matt Dodd (15:48):
We've paid the heating. Well, Justin's paid the heating bill here in SDVoE house, so we're all cozy and warm in our concrete mass. Charlie, we saw a snippet from a great piece that you did, which is on SDVoE Academy for people to go and watch the full extent of. It's really good by the way, because when you watch the full video, you start to see all the schematics and diagrams, the thought process that went into making it happen. Big install, Charlie, big install.
Charlie Sullivan (16:18):
Big install, absolutely. You know us at ZeeVee, we like to punch above our weight. That was a fantastic one for us and something that really put us on the map in terms of a UK install and one that we've utilized moving forward with lots of customers. It's that easy to get to.
Matt Dodd (16:35):
Client seems very happy as well.
Charlie Sullivan (16:38):
Client's happy. That's always helpful, absolutely.
Matt Dodd (16:47):
Have you had the phone call yet that says, "Hi, Charlie. Yes, it's Damon here from Samsung. Nothing works."? You've been there. We've all been there. "Nothing works. It's never worked."
Charlie Sullivan (17:01):
No, our tech buds are too good for that, Matt.
Matt Dodd (17:04):
Very good. Well done. I consider myself stomped down nicely. Just out of interest, do you think brands are moving away from the store experience, moving to an experience center like this? What's your take on that?
Charlie Sullivan (17:20):
We've all been totally used to being able to buy anything within about three seconds and have it sent to us via Amazon and all the rest of it. That's great. The convenience is awesome, but I think that it's lacking a personal touch. Really, what you get from this site when you go there is an incredibly immersive and engaging, personalized experience. It's something, as soon as you get there, you have face-to-face engagement with people that are running the shop floor. It's a very soft-sell approach. So it's more of an engaging, have you tried this? Have you looked at that? Hands-on demonstrations are right there. There are hundreds of different pods you can go and play with, but it brings it back into real life scenarios. So you can go and sit in the living room. You can go sit in the kitchen. You can do yoga.
Matt Dodd (18:07):
What is this yoga thing?
Charlie Sullivan (18:09):
… if you wanted to, for instance. I know, it's mad. DJ sets, you can create your own music and then save it and send it to your friends and a whole plethora of other things. I can go into a bit more detail on that later, but I think that engagement and that hands-on demo and real-life scenarios have really been able to increase footfall and enables people to stay for longer. Obviously, remember that this site is an event space as well. So there are countless events that are going on here daily. With that, you obviously pull a wider audience. You have more people there, and often, people that won't necessarily think to play with a certain kit that might be there. So you have more bums on seats, so to say. They're playing with more technology and therefore, they're more open to purchasing more equipment at the same time having walked in there not thinking about doing that in the first instance.
Not only that, I think post-pandemic, we're going to see a shift of people deciding, do I need to go to this site? Do I want to go and queue up? Do I want to go where loads of people are? This site is 20,000 square feet. It's humongous, so it's super easy to move around. There's no queuing. There's space inside for anyone to go. I've never seen anyone queue to test anything. There's just so much tech to play with. So I think post-pandemic, it's going to really lean towards that once everything's opened up. As you mentioned before, the Coal Drops Yard there, it's got restaurants, bars, shops, it's got loads of other stuff there. You can just go in for a couple of hours there and then make it a day out essentially.
Justin Kennington (20:00):
So this shift from retail store to experience center, if you will, I'm thinking back to my childhood when the whole of AV at a retail store might be the PA system where they could announce that there's a sale on boxes of tissues on aisle eight. We've come a long way in terms of using AV to deliver experience. So what is the opportunity for pro AV here? Are you and ZeeVee doing anything in particular to target that market?
Charlie Sullivan (20:34):
We work in every single vertical that's going. I think that's one of the reasons that Samsung picked us as a product to go with, given the credibility that we have in these markets. But retail is always going to be a big push for us, given the scalability and flexibility that we can provide for AV over IP and the high resolution whether it's massive LED walls down to smaller screens as well. It's certainly something that we played in historically and something that we're absolutely pushing moving forward as well.
Matt Dodd (21:05):
It mentioned in the video clip about the super low latency. Obviously, we can expand on that a little bit, but how was that communicated when you went through the whole process of explaining and talking to Samsung? Did they recognize the importance themselves of low latency? Was that something that you guys needed to help them understand and drive them towards?
Charlie Sullivan (21:29):
Sure. There were a couple of players that we worked very, very closely with from day one, from the inception of the project. Hoare Lea were the consultant and then Snelling were the integrator. We worked very closely with these guys and have great relationships with both of them having done quite a few installs with them in the past. Anyway, they were looking for obviously, something that was going to allow them to distribute AV with high resolution images, but with that being 10 gig, it brings uncompressed video streams as well. That's where we could bring the latency down. Saying that they did test one-gig systems and let's not forget that Samsung own Harman, Harman own AMX, and AMX have their own AV-over-IP product. They wanted AV over IP for the flexibility and scalability of the system, but at the same time, they had to be able to show HDR10 because that's a Samsung standard built into their screens.
They want to show the best image because they're selling screens at the end of the day. With that came the uncompressed nature of the Zxper4K product that we put forward. We could get that down to around 30 microseconds. When you're looking at using it for gaming, for any facility where you're looking to have quick-fire video and get away from any sync issues, that was absolutely paramount for us. In a one-gig system, you're going to have artifacts, you're going to have latency, and that was quickly discovered in the proof of concept stage.
Matt Dodd (23:14):
Good. Charlie, I've no doubt there's going to be a heap of questions coming your way, so stick around, if you wouldn't mind, for the aftershow. We'll be throwing questions at you, but for now, and from all of us here, thank you so much for being here on the live show. We will see you very shortly for the aftershow.
Justin Kennington (24:34):
It's very simple. About four and three quarter minutes from right now, you need to sit there. Don't move. Don't click anything. You'll be there in the aftershow. Those of you who are watching this on YouTube, maybe you missed us live and you're coming back to the SDVoE channel on YouTube to catch this. After the fact, you will need to visit SDVoE Academy at sdvoe.org/academy and sign up for a free account, click through, and you'll be able to access the aftershow on demand as well.
Matt Dodd (26:31):
What's coming up in the next show, episode seven, The Lost Art of AV – How Bright Are You?
Justin Kennington (26:42):
My old friend, Chris Neto, and his Starin colleague, Clay Stahlka, have built a series of short-form AV educational videos (much like SDVoE Academy) called "The Lost Art of AV" and we will feature one called "Display Brightness." We share a common mission, which is getting interesting, engaging education out there to the community.
Matt Dodd (28:03):
You guys get yourselves ready for the aftershow. We can't wait to see what you've been writing in the chat. We'll see you shortly.