Episode 1 – A New Architecture for Network Convergence
Welcome to the first episode of SDVoE LIVE! Justin Kennington and Matt Dodd discuss the latest pro AV news, walk us through the difference between AV and IT, propose a new way to think about converged AV/IT networks, and make a big SDVoE announcement.
Catch new episodes of SDVoE LIVE!
every second Tuesday at 1 p.m. ET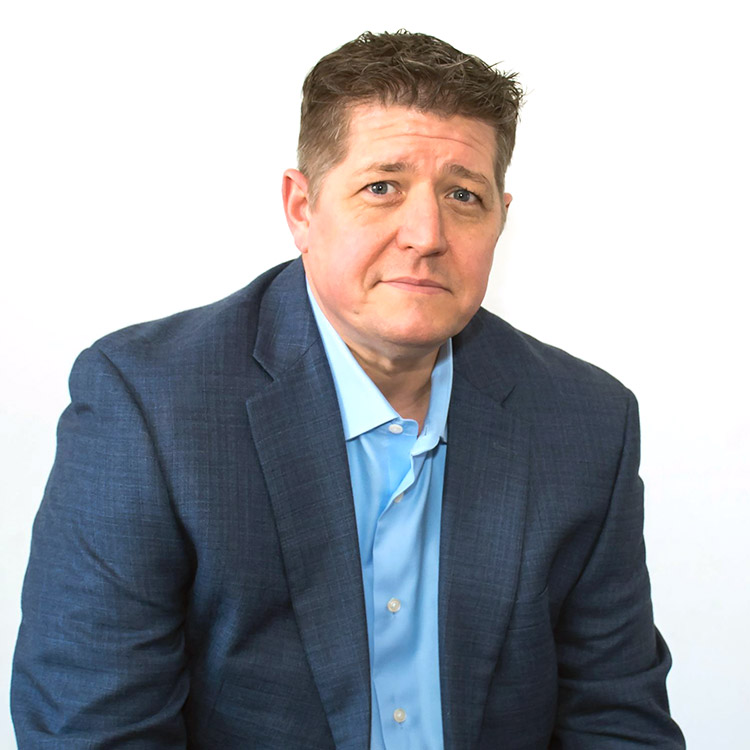 Episode guest
Tim Albright
CMO, Conference Technologies
Tim Albright is the founder of AVNation and is the driving force behind the AVNation network. His career has taken him from broadcasting to designing and programming AV. Albright has spent his life continually learning and helping others.
Episode transcript
Justin Kennington (00:38):
Hello! Hello everybody and welcome to SDVoE LIVE!. This is TV for pro AV and I'm your host, Justin Kennington. We have a lot of exciting topics and interesting guests lined up for you over the coming months of new episodes. Today, we're going to keep things simple for episode one. We're going to kick it off with just myself and my co-host and trusty sidekick, Matt Dodd, who I'll introduce you to in a moment. Matt heads up education for the SDVoE Alliance and education is a very important part of our mission. You are all currently our live viewers, logged into the SDVoE Academy, which is a key part of how we bring training and knowledge to the AV community. After the show, I encourage you to browse around the academy and see our nearly 100 courses that are available on topics including, of course, audio and video, but also IT topics and a lot around how those two worlds can be bridged together.
That's a key focus for us here in our very first episode. We are going to teach you about a new way to think about converged AV and IT networks but before we jump to that education segment, we have some industry news to talk about, and I also have a very special SDVoE Alliance announcement to make for 2021. You'll be hearing it from me right here on this show for the first time. I also need to mention that after the credits roll on our half hour together here, you'll see me and Matt sit down and relax a little bit, loosening our proverbial ties for our aftershow.
That is going to be a live and interactive event with you, our audience. So starting now, if you have questions for me or Matt,  use the chat. We really want this to be an interactive experience for you, not just a TV show. This is much more fun for us if we get to interact. With that out of the way, and without further ado, I'm going to introduce you to Matt. Who's waiting for us over in the newsroom.
Matt Dodd (03:08):
Hi everybody! Hello, Justin! How are you?
Justin Kennington (03:11):
Hello Matt! Good to see you. Thanks for joining us today.
Matt Dodd (03:15):
Thank you. A great set by the way. You've worked really hard. Lovely to see that you've bought these really expensive screens here, they look great. Did you run out of money buying the screens or are we not fully moved in yet? What's the score?
Justin Kennington (03:32):
You've been as involved as anyone in our location scouting. It took months to find just the right set for us to put on this new kind of TV show. And then of course being AV guys, we blew all the budget on TVs and equipment and left nothing for furniture, carpet, paint, a ceiling and so on. So sorry about that, Matt, we're standing for the show.
Matt Dodd (03:59):
I have an idea Justin, do you want to hear it?
Justin Kennington (04:01):
Shoot.
Matt Dodd (04:02):
Up here, we have the hashtag #sdvoelive for Twitter. Who tweets out there? Why don't we ask the audience to give us some ideas on the sort of furniture that they'd like to see? Let's give it a go. I have my trusty iPad here and it gives me all your comments coming in.  Any feedback, any comments along the way, please send them to us because we would love to hear what you are thinking. Right now, we just want you to tell us the sort of furniture that you'd like us to put in here. Because we will do that provided we can afford it. So hashtag #sdvoelive, tell us what you'd like to see in here.
Justin Kennington (04:51):
Yeah. Let's see if we get any new ideas by the end of the show.
Let's talk about some news, Matt. This week I have a couple of stories. Both happened to be published by Systems Contractor News. Good for them that they got both, but they really had two pieces that were highly relevant to our topic today and I thought that they were worth discussing. The first of these is called optimizing decision-making and it analyzes the state-of-the-art for equipment that's used in command and control centers, emergency operation centers, and those kinds of systems. Matt, what did you see here? What was your takeaway?
Matt Dodd (05:26):
Well, the biggest takeaway for me, Justin, was the fact that we've been building a lot of video content this year, certainly based around mission critical use cases. With regard to optimizing decision making in a mission critical environment, my takeaway was making sure the client is on board with this. Now, it's not so much a case of us having to go in there to wax lyrical about this great technology we have. Clients are really aware of how this technology can be implemented with a hands-off approach, which is important right now. We hope you are all safe and well out there, by the way, since it has been a really weird and horrible year, but I think we are coping really well.
As a result, we have had to very much change our strategy and realign quickly the way we do things. So we have certainly been instructed to build a lot of content designed around mission critical applications. It's designed around the ability to scale up the flexibility, to scale up the type of technology we have, without the need for lots of people in there and lots of hands on. It's a really interesting article.
Justin Kennington (06:41):
I also should have mentioned before, those of you watching this with us in SDVoE Academy, look to the right of your screen and you will see links where you can click and read these articles for yourself after the show, to get some context. What I thought was interesting in this one was it specifically called out a need for hybrid AV/IT networks. The way they described it, an operation center is about individual operators working and about them working in the larger team, and how these different sizes of groups scale the data that they need and are able to access it quickly. That data comes in the form of both audio/visual data and other kinds of data sets.
The concept here of being able to build a hybrid network, so that the data comes in and flows through the same channels makes it a lot easier for those teams to collaborate and to assess these massive data sets and get to what is critically important. Personally, I was very happy someone quoted in the article mentioned that customers are ultimately best served by software-defined workflows. Those of us here at the Software Defined Video over Ethernet Alliance were very pleased to hear that assessment. We totally agree that the kind of flexibility software brings to the AV application is really key. Matt, what was our next piece about?
Matt Dodd (08:03):
The pro AV trends to watch for in 2021 – there are a couple of things that stuck out for me, but what were your takeaways?
Justin Kennington (08:17):
Number one for me was my friend Gabi Shriki at the HDBaseT Alliance mentioning that there is no need for dedicated AV-over-IP networks, and we totally agree. That is what we wanted to talk about here. You can converge AV and IT, bring those together and get a more effective solution. What did you see here, Matt? There was a lot that went beyond audio, video and AV over IP in this article.
Matt Dodd (08:43):
Yeah. What I was hoping to see was better furniture, some nice couches and comfortable things to put in studio sets.
Justin Kennington (08:52):
We will call it a trend for 2022.
Matt Dodd (08:55):
No, we can't wait till 2022. There are some great thoughts coming in.
Justin Kennington (09:04):
Inflatable chairs. Perfect.
Matt Dodd (09:07):
So the takeaway, sorry.
Justin Kennington (09:08):
That might be in the budget.
Matt Dodd (09:10):
The takeaway for me was, to start with, the whole COVID thing has really made us start to consider how we apply touchless technology. Now, we have taken this stuff for granted. I have one in my hand and I'm touching the keys. Then we hand that to someone else as a control panel for somebody to go into a hotel or go into an office, or wherever it might be, and fingers are going to touch these panels.
So I'm really interested to see what's going to come out from touchless technology, which takes the voice activated stuff and the voice recognition stuff and makes it better. It is getting better, but it needs to be a whole lot better and more reliable before it can be applied in certain commercial use cases. And another thing that floats my boat, apart from inflatable chairs, haha, is wireless mic technology.
When we do these live shows, I'm completely rigged up with microphones and I've got boxes attached to me all over the place and cables running through my clothes. That's all well and good but it is uncomfortable. We already have boundary mic technology, but the audio quality is not good enough to do something like this so the idea of having wireless microphone technology, which is away from the body, would be really cool. That is certainly on my radar.
JK, I believe you have a rather special announcement from within the SDVoE camp. Is that correct?
Justin Kennington (10:49):
I do, this is brand new. This is the first time we are announcing this publicly, but it is something we have been working on for some time. In 2021, we will be launching the SDVoE API Developer Program. Any of you familiar with SDVoE technology who've been through some of the courseware in SDVoE Academy and maybe certified as SDVoE Design Partners, understand that the API gives us our software-defined flexibility. It's that on which rests our interoperability capabilities. In 2021, we're going to open that API up to any developer who wants access to it – software developers from the IT world and custom AV programmers from the AV side of the house. You're all going to be invited to come into SDVoE Academy to be trained on how to use the API. That will give you access to all of the software, documentation, and everything so that you can start building applications on the SDVoE platform. It's really exciting stuff.
Matt Dodd (11:46):
JK, can I ask you why you had to wait until now?
Justin Kennington (12:08):
We've grown to a point where it's time to start delivering on that promise of "software defined".  We're now 51 members with over 500 products built around the SDVoE platform. I really want this to become what Android is to the smartphone. I don't have delusions that we can get that big anytime soon, maybe in a couple of years, but that's essentially an OS, kind of like an API. You have a few manufacturers that build really great hardware for it, but then you have this world of developers who are all bringing their creativity to the platform and delivering really great user experiences. That's what we want SDVoE to be, the Android of pro AV. You can have lots of applications built upon the hardware chosen by individual users, installers and designers.
Matt Dodd (13:00):
Who is it for? Who can participate, and more importantly, how can they participate?
Justin Kennington (13:06):
Anyone who's interested can come and join our program. We are planning to launch this, in total, in the summer of 2021, but starting the first of the year, we are going to launch the alpha phase. That is going to be the first set of hand-selected individuals who express an interest in this and show us some competence and ability. We are going to let the alpha developers have first access to the training, documentation and support, and be involved in an interactive way to give us feedback. There will also be a user forum for users to support one another. Many of the alliance members will participate in that forum and offer support there. We want our alpha developers to be in there early and to help us craft this into a very successful program. So if you want to participate, just drop an email to info@sdvoe.org, and we will get you everything you need to get started.
Matt Dodd (14:15):
That takes us to the end of the news. Don't forget, hashtag #sdvoelive. Tell us what you want to see in the studio.
JK, I've got to go and do some educating now, if that's all right. If you want to go and grab yourself a coffee, I'll see you shortly.
Justin Kennington (14:32):
It's the time for serious education. I'll step out of the way.
Matt Dodd (14:45):
Thanks for joining us here at this first show, it is going great. As you see, there is little furniture here. We really did blow the budget on these great big screens, but, hey, that's the best place to spend it. Keep the suggestions coming in because they are pretty funny.
Episode one is "A New Architecture for Network Convergence". In a moment, I'm going to roll a video  from SDVoE Academy, but let me just start by saying that we have been using the phrase "AV over IP" for a long time, right?
When you think of AV on an IT data network, that looks dramatically different from an AV network. It's not just a case of saying it differently and it's not just a mindset change. We need to think about the way we design the network so that we can accommodate the two things together. That is what this is all about – a converged network of IT and AV living comfortably on the same infrastructure. We can not just turn up with a bunch of kit and sling it onto a network.
We have a course in SDVoE Academy that talks about how AV will kill an IT network. We should consider designing our AV networks to accommodate IT. That is true convergence. So how do we do that? Let's find out in the next segment.
We hear the term AV over IP used a lot. It is a growing trend within the audio/visual industry. However, AV over IP is often confused with AV over IT, which essentially means a converged network. This course will walk you through the differences between these two very similar phrases before finally introducing you to the concept of IT over AV. Let's begin with AV over IP. This means that we are transporting audio/video (AV) using internet protocol (IP). This uses a network switch.
Internet protocol is a layer-three protocol, and a typical IP address looks like this. When we transport AV, we use a process called multicasting and this gives each audio/video stream its own IP address, and they look like this. Check out the multicasting course on SDVoE Academy to learn more about how this works. AV over IP exists in many forms already, but that does not automatically mean that these AV-over-IP solutions can just be sent over any IT data network. Remember, data networks are primarily designed for data transport, not AV transport. So just dumping our AV solutions onto an existing data network is not a great approach. We will come back to this.
AV over IT is the ability to transmit audio and video signals over an IT network designed for data that only works for very-highly-compressed AV streams, such as H.264 or HEVC. It is these codecs that bring YouTube or Netflix to your mobile phone. Because this data is so highly compressed, it makes its bandwidth requirement very low and IT people love that because it does not interfere too much with their data bandwidth. It is high latency data, and that is easy to route over an existing IT network. This is the only exception though, because the reality is that most other AV will kill your IT network. MJPEG codecs can consume over 900 megabits per second, and that spells the end but any one-gig data network AV over IP does not mean that you can simply put AV on an existing IT network because it will probably kill it.
When IT networks are designed, they're usually oversubscribed. This means that the peak amount of data that might be used will exceed the bandwidth available on the network, often by up to 20 times. This is called a blocking network. Let's look at an example. A one-gigabit Ethernet switch with 48 ports can support a full 1G of bandwidth, incoming and outgoing, on all 48 ports simultaneously. The total bandwidth capacity of that switch is 48 times one gigabit times two in and out. That's 96 gigabits and the switch is said to be non-blocking. However, it is common to connect this to another switch just using full one-gigabit links. This creates an eight-gigabit bottleneck between the switches giving an oversubscription ratio of 12 to one. If we try to send all of the possible data the first switch could support, we would lose almost 90% of that data inside the bottleneck.
When an AV network is designed, the peak bandwidth requirements must always be sustained because video always consumes high bandwidth whenever it's in use, unlike an IT network where traffic is very bursty, infrequently using high bandwidth. If the video is 500-megabits per second for example, then 500-megabits per second will be constantly consumed. This means that the architecture has to be non-blocking, giving all the AV networks a one-to-one subscription ratio.
Let's look at this a different way. IT over AV means the ability to transmit IT data over an AV network. It achieves the same result of having the convergence between the two systems, but by designing an AV network first, and then placing the IT requirements on top of it, the AV bandwidth is guaranteed. Whatever is left can be used for IT. This is true convergence. AV will not run out of bandwidth, nor will IT.
Let's look at an example where 10-gig switches are put in place for the AV network. Whether it's for one-gig AV or 10-gig AV, you still need to use a 10-gig switch. So in this case, you can see, we have a 10-gig AV port, which gives you all the dedicated AV. Within that, you also have a one-gig data port, which guarantees that you have full one-gig support.
IT over AV means that the data is now riding over the AV network, as opposed to the other way around. If it was just AV on an IP network, then this would be a standalone replacement for a matrix switch. If it was AV over an IT network, then the IT network would need to make provision for the AV to ride over it and as we have already established, this would probably kill the network. Networks designed for traditional IT do not handle AV very well, but networks designed for AV do not have much trouble at all handling a little bit of extra IT traffic. IT over AV is the only way to allow a one-gig IT network to work perfectly with any AV transport, whether it's a 10-gig SDVoE application, a 900-megabit per second MJPEG application, or even a 50-megabit per second H.264 application. IT over AV is true convergence because it eliminates any redundancy that happens with multiple networks in place. And the cost is reduced because, well, there's only one network instead of two.
Justin Kennington (24:36):
Thanks for putting that together, Matt. To me, it exposes something interesting – what happens when you start to think of AV as just another application of IT? That's not to put AV under IT in any way. AV and the user experiences we create are the important thing, but once you start thinking of it as just another IT application, I think it starts to allow AV pros to really focus on user experience and creating great things and not have to worry so much about how precisely to hook up the matrix switch.
Justin Kennington (25:25):
We are in the home stretch of the show now, Matt, anything happening on Twitter? What kind of couches am I going to have to buy for your precious tush?
Matt Dodd (26:14):
Yeah. So conference tables, that is good. A little bit boring, but hey, thanks for the suggestion.
Justin Kennington (26:21):
It would not be an AV show without a good conference room.
Matt Dodd (26:23):
You need a conference table, that is for sure. We need some carpet. Yeah. Definitely had some big support for carpet and a bar thing – we totally need to go for a comfy pub scene. Being a Brit, I am all for a comfy pub. Please keep the Twitter feeds coming in. By the way, let's also use this for our discussion topic. Based on this week's topic, the whole network convergence thing, have you ever been in this position with any of your projects?
You might have actually been in this situation where you have experienced a converged network or you have been putting it in without realizing. Send us your thoughts on this and we will bring this back in on the next show.
Justin Kennington (27:46):
If you missed anything in this show, if you want to repeat it, all of our following episodes will be posted to our archive right here on SDVoE Academy, as well as on the SDVoE Alliance YouTube channel. So please, if you enjoyed the show, tell your friends, send them here to watch the reruns.
Join us for episode two "What is a Network Anyway?"  We all think we know what that means. Some of us do know what a network is and some of us do not. So come back and learn a little bit about that. I hope you had fun today.
Matt Dodd (28:27):
Stay tuned for the aftershow, please. Meanwhile, I am going to go and get that coffee that he just made me. Thanks again. Take care. Bye-bye.