AV LINK's SDVoE Solution Upgraded the Thailand-based Event Venue Connext Sriracha
View this video case study: Yuu Residence Sriracha selected AV LINK to create an unparalleled environment for guests while promoting convenience and accessibility. With captivating A/V quality, the visual possibilities were unlimited, and the goal was for guests to have the most memorable accommodation and event experience.
Benefits of SDVoE Technology
SDVoE reaches beyond existing standards to provide benefits no other technology can claim:
A complete ecosystem – SDVoE Alliance members are manufacturers with expertise in signal distribution, display manufacture, IT infrastructure, chip design, and AV software. The integrator has dozens of partners to align with and products to choose from.
A flexible yet simple software platform – the SDVoE API allows rapid development of highly specialized software, custom-tailored to the needs of a vast array of end users.
A full OSI stack solution – only SDVoE offers the simplicity of a complete top to bottom solution, fully encompassing infrastructure, transport, processing, and a simple control layer.
About AV LINK
Since 1988, AV LINK has been a professional provider in the Pro AV industry with the expertise of 4K and 8K video processing algorithm driving on FPGA. In an ever-changing industry, AV LINK continues to do its best to serve customers and inspire the market. AV LINK has been engineering the most comprehensive and innovative products for various applications like hospitality, industry, transportation, entertainment venues, esports, retail, house of worship, education, healthcare, corporate, government, etc. For more information, please visit www.avlinksystem.com or send your email to sales@cctch.com.tw to contact us.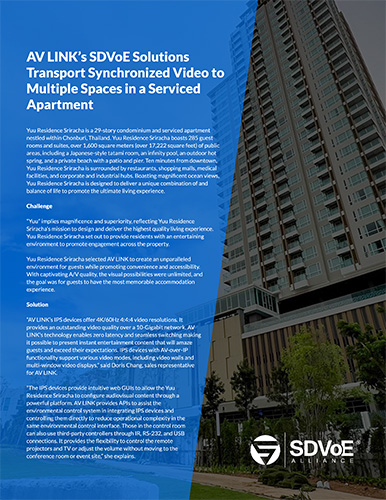 Stay
informed
Keep up to date on SDVoE Alliance news and events. Subscribe to our newsletter.