SDVoE Alliance Sponsors AV/IP Passport Promotion at InfoComm 2017
Over $10,000 in prizes, including a complete AV-over-IP system provided by DVIGear and NETGEAR, to be won just by visiting member booths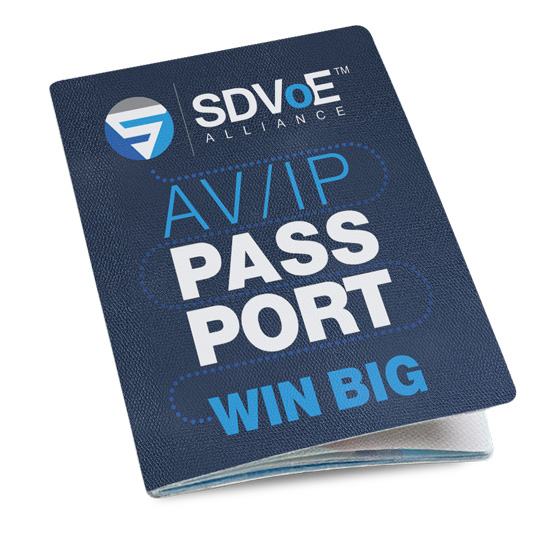 MONTREAL — May 23, 2017 — At InfoComm 2017 (Orlando, June 14-16), the SDVoE Alliance is sponsoring an "AV/IP Passport" promotion to encourage system integrators, designers, consultants, installers and end users to visit members' booths to learn more about the Software Defined Video Over Ethernet paradigm, which is disrupting the pro AV marketplace.
"The rules of the game are simple," said Justin Kennington, president of the SDVoE Alliance. "Get your passport stamped at the four featured members' booths to enter the daily drawing or visit all 10 booths for a chance to win the grand prize. At the same time, take the opportunity to learn more about SDVoE products which are built on the only technology that delivers 4K without compromise, offering the flexibility and scalability of Ethernet, without latency and image artifacts."
Featured members are Christie (booth 2553), Sony (2200), ZeeVee (1761) and DVIGear (2920). Other participating members include IDK (4075), Arista (4671), Aurora Multimedia (2561), Cleerline SSF (3981), HDCVT (4770) and Techlogix Networx (3981). Participants may collect their passports at any of these booths or pick up a copy bound into the InfoComm Show Daily on Wednesday. Complete terms and conditions of the promotion can be found on the SDVoE Alliance website.   
All AV distribution and processing applications that demand zero-latency, uncompromised video can benefit from SDVoE technology, which provides an end-to-end hardware and software platform for AV extension, switching, processing and control through advanced chipset technology, common control APIs and interoperability. SDVoE network architectures are based on off-the-shelf Ethernet switches thus offering substantial cost savings and greater system flexibility and scalability over traditional approaches such as point-to-point extension and circuit-based AV matrix switching.
About the SDVoE Alliance
SDVoE is an initialism for "Software Defined Video over Ethernet". The SDVoE Alliance is a nonprofit consortium of technology providers collaborating to standardize the adoption of Ethernet to transport AV signals in professional AV environments, and to create an ecosystem around SDVoE technology allowing software to define AV applications. The alliance participates in tradeshows and conferences, publishes white papers and case studies and promotes SDVoE technology, and solutions based on the technology, to system integrators, designers and consultants. Training and installer certification are also part of the mandate. The SDVoE Alliance founding members are AptoVision, Aquantia, Christie Digital, NETGEAR, Sony and ZeeVee. All interested parties are invited to join the alliance and work toward its goals. For more information, visit sdvoe.org and follow us on Twitter @SDVoE.
Topics
Media contact
Janet Matey
Marketing Coordinator
+1 (514) 446-2412