SDVoE Alliance Presents a 4K Streaming Codec Shootout at ISE 2017
Interactive, head-to-head demonstration of several widely-adopted codecs invites attendees to compare video quality and latency for AV-over-Ethernet applications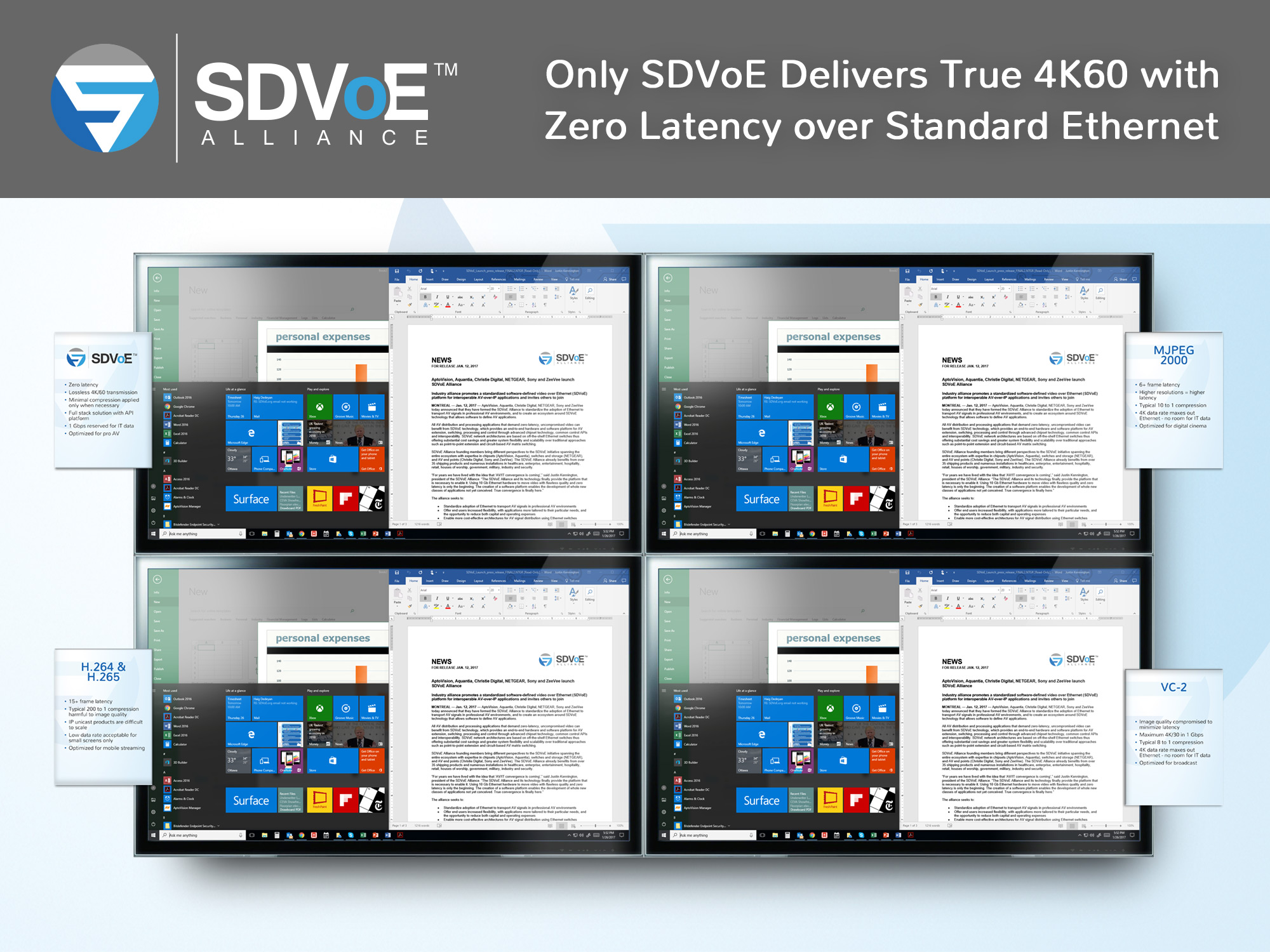 MONTREAL — Jan. 27, 2017 — At ISE 2017 (Amsterdam, February 7-10, stand 12-H55), the SDVoE Alliance will feature an interactive, head-to-head demonstration of several widely-adopted codecs for AV-over-Ethernet applications. Pro AV system integrators, designers, consultants and users will have the opportunity to compare video quality, latency and bandwidth requirements for AV signal distribution and get all their questions answered.
SDVoE technology will be put to the test against H.264/AVC, MJPEG and VC-2. Additional demonstrations of SDVoE technology will highlight powerful AV processing for video wall and multi-view applications as well as its unique support for 4K60 with HDR.
"We put together the shootout to overcome common misconceptions about AV-over-IP including the impact of compression on video quality and the effect of latency on usability," said Justin Kennington, president of the SDVoE Alliance. "Visitors to SDVoE Alliance stand will be pleased to discover they don't need to make compromises. They can have zero latency and flawless image quality on a standardized, easily manageable, low-cost Ethernet infrastructure."
Visitors to the SDVoE Alliance booth are invited to register for a drawing to win a NETGEAR ProSAFE 8-Port 10-Gigabit Ethernet Smart Managed Switch to use in their own SDVoE system.
All AV distribution and processing applications that demand zero-latency, uncompromised video can benefit from SDVoE technology, which provides an end-to-end hardware and software platform for AV extension, switching, processing and control through advanced chipset technology, common control APIs and interoperability. SDVoE network architectures are based on off-the-shelf Ethernet switches thus offering substantial cost savings and greater system flexibility and scalability over traditional approaches such as point-to-point extension and circuit-based AV matrix switching.
About the SDVoE Alliance
SDVoE is an initialism for "Software Defined Video over Ethernet". The SDVoE Alliance is a nonprofit consortium of technology providers collaborating to standardize the adoption of Ethernet to transport AV signals in professional AV environments, and to create an ecosystem around SDVoE technology allowing software to define AV applications. The alliance participates in tradeshows and conferences, publishes white papers and case studies and promotes SDVoE technology, and solutions based on the technology, to system integrators, designers and consultants. Training and installer certification are also part of the mandate. The SDVoE Alliance founding members are AptoVision, Aquantia, Christie Digital, NETGEAR, Sony and ZeeVee. All interested parties are invited to join the alliance and work toward its goals. For more information, visit sdvoe.org and follow us on Twitter @SDVoE.
Topics
Media contact
Janet Matey
Marketing Coordinator
+1 (514) 446-2412
Stay informed
Sign up for our newsletter
Follow us
Stay engaged on social media
Join us
Enquire about membership