SDVoE Alliance Demonstrates "Zero Latency" at InfoComm 2017
Controversial AV-over-IP topic thoroughly explained and modeled in booth 3729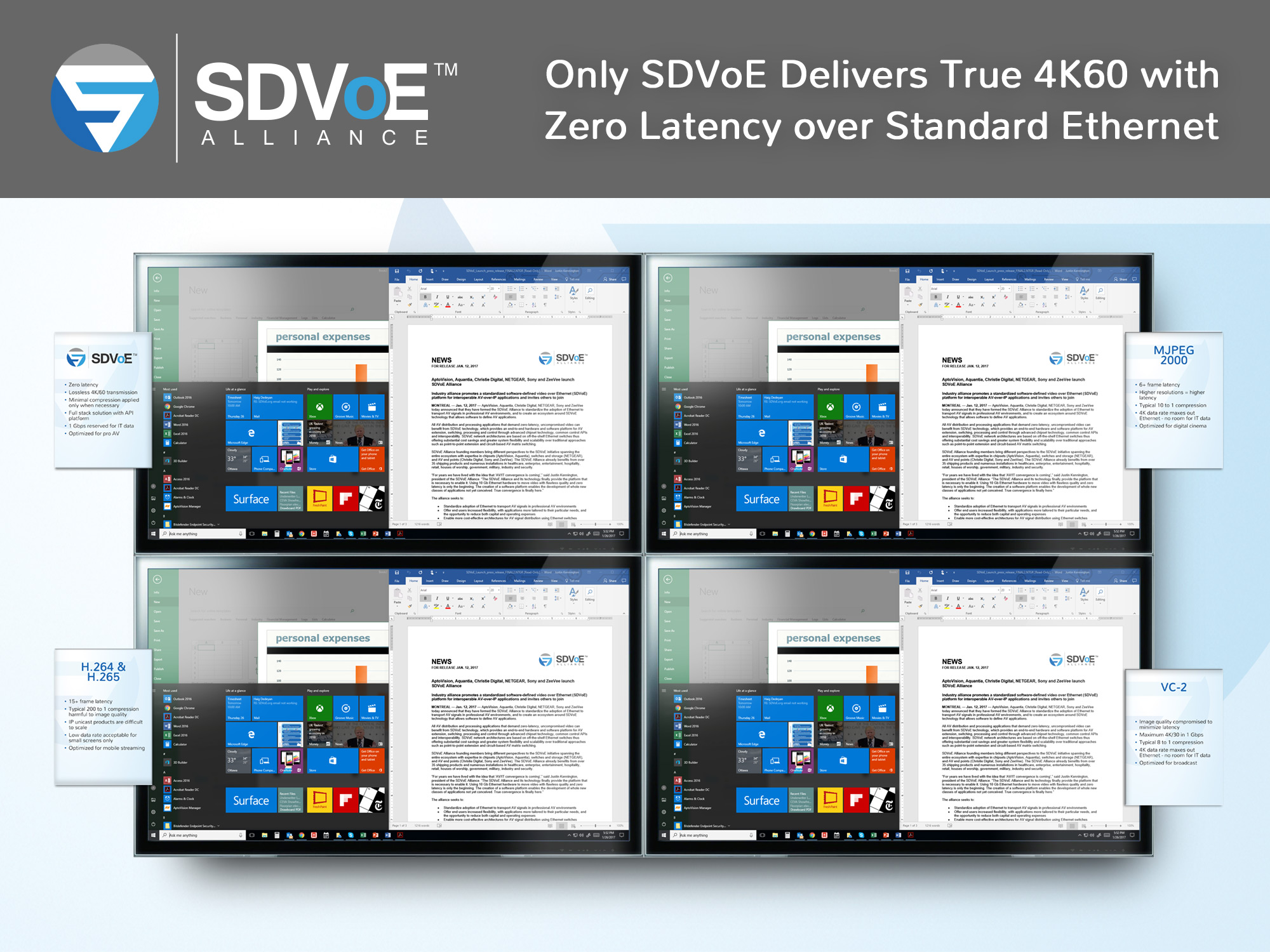 MONTREAL — May 30, 2017 — At InfoComm 2017 (Orlando, June 14-16, booth 3729), the SDVoE Alliance will host an interactive, head-to-head demonstration of several AV-over-IP implementations so that system integrators, designers, consultants and users can compare video quality, latency and bandwidth requirements for AV signal distribution and get all their questions answered.
"We put together this demonstration to help visitors sort through the misinformation proliferating in our industry related to the impact of compression on video quality and the effect of latency on usability," said Justin Kennington, president of the SDVoE Alliance. "The latency of the SDVoE transport is less than 0.1 milliseconds.  I feel good calling that "zero latency." Meanwhile, manufacturers who are not using the SDVoE platform claim "no latency" (notice they won't say "zero") and then publish a specification that says 30 milliseconds. That's dishonest, and it exposes system designers and integrators to performance limits that will prove unacceptable once they are discovered by end users."
Additional demonstrations of SDVoE technology will highlight powerful AV processing for video wall and multi-view applications as well as the platform's unique support for 4K60 with HDR.
All AV distribution and processing applications that demand zero-latency, uncompromised video can benefit from SDVoE technology, which provides an end-to-end hardware and software platform for AV extension, switching, processing and control through advanced chipset technology, common control APIs and interoperability. SDVoE network architectures are based on off-the-shelf Ethernet switches thus offering substantial cost savings and greater system flexibility and scalability over traditional approaches such as point-to-point extension and circuit-based AV matrix switching.
About the SDVoE Alliance
SDVoE is an initialism for "Software Defined Video over Ethernet". The SDVoE Alliance is a nonprofit consortium of technology providers collaborating to standardize the adoption of Ethernet to transport AV signals in professional AV environments, and to create an ecosystem around SDVoE technology allowing software to define AV applications. The alliance participates in tradeshows and conferences, publishes white papers and case studies and promotes SDVoE technology, and solutions based on the technology, to system integrators, designers and consultants. Training and installer certification are also part of the mandate. The SDVoE Alliance founding members are AptoVision, Aquantia, Christie Digital, NETGEAR, Sony and ZeeVee. All interested parties are invited to join the alliance and work toward its goals. For more information, visit sdvoe.org and follow us on Twitter @SDVoE.