Live Events Professionals Rely on SDVoE
At first glance, SDVoE products such as Christie Terra may appear to be purely signal extension solutions, but they really go much farther than that. They provide versatile and powerful matrix switching capabilities plus control and scaling for organizing and managing content for quality conscious customers at live events.
First, foundationally as a product it supports 4K/60 source content. It only requires a single cable to transport the 4K/60 signals plus additional control and audio signals over a single cable. This makes system design and installation of equipment simple and cost effective.  10G Ethernet provides more than enough capacity to switch, distribute and transport 4K/60 content pixel-perfect with lossless quality, essential for preserving the investment in produced content and live camera quality which is typically presented on high end projection and LED displays.
SDVoE zero-frame latency makes it a natural for live, presentation and interactive applications.  Audio system design and programming does not become complicated with special programming to manage delay and avoiding AV lip-sync issues that can be experienced when there are video encoding or processing delays. Unlike other AV over IP solutions, SDVoE can maintain synchronization from sources to displays, allowing live and produced content comprised of multiple video channels to be presented on multiple display systems that are seamless, maintaining frame accuracy across them.
The integrated control and processing onboard SDVoE allows multi-viewers to be prepared for confidence viewing and monitoring multiple sources by event staff from any receiver.  The SDVoE platform provides onboard interfacing for serial RS-232 and USB control signals allowing the same device to exploit KVM control over AV sources and or use it for other interactive control using gesture control interfaces. The user experience with control also benefits from no system latency.
Live event partners that have used Terra found it to be a more powerful tool than just signal extension. Operating the biggest screen at Mobile Word Congress, Isaac Sancho from MappScreen (tasked with this project), quickly realized that SDVoE benefits extend to the entire event. You can see Isaac's newfound love for Terra (and SDVoE) by the realization he had working on this event:
"I have no problem in confessing that I am in love with Terra", admitted Isaac Sancho. "At the beginning we thought that it was simply relaying extending 4K video signals, but then we realized that you can practically launch a whole event with it and that it operates like a separate matrix. It is really powerful and affords incredible versatility when it comes to delivering uncompromised signals. At this specific event we used it to relay extend various different kinds of signals over one single fibre cable."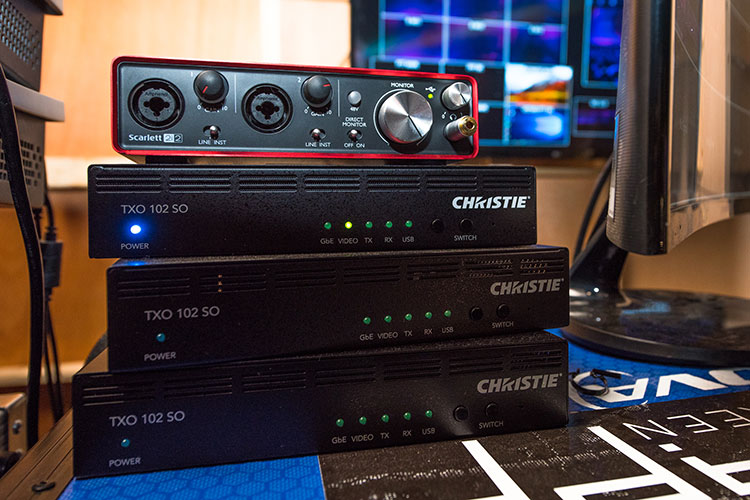 Christie Terra and SDVoE have been integral parts of the technology solutions for other live performances as well.
The Dutch National Opera mounted a marathon 15-hour performance spread over three days featuring selected highlights from Karlheinz Stockhausen's seven-opera cycle LICHT . The performances were produced in cooperation with the Holland Festival, the Royal Conservatory in The Hague and the Stockhausen Foundation, and held at Amsterdam's Gashouder, a former industrial hall that now serves as an event space. The goal of the AV set up in the temporary performance space was to optimize quality not only for the live audience but also for the recording, while simplifying the AV workflow design.  Watch Tom Böecker of Christie present the case study in SDVoE Academy.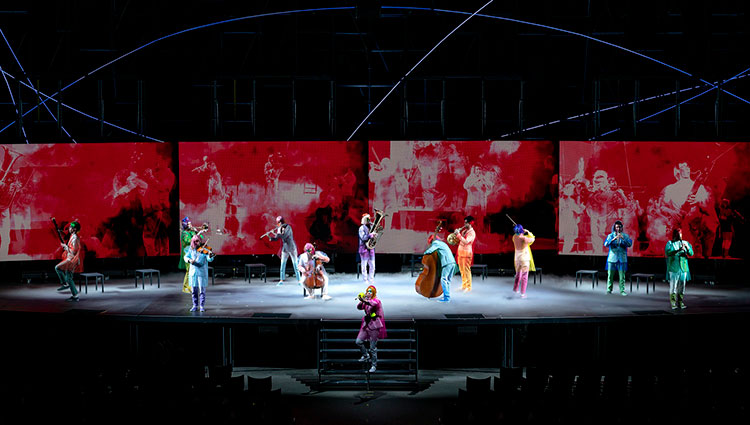 Photo: aus Licht © Ruth & Martin Walz, Dutch National Opera
At the Zurich Opera House, Christie Terra, with its ability to switch, scale and extend signals of 4K video content, was chosen to complement the Christie infrastructure in taking the already-impressive onstage production of 'L'incoronazione di Poppea' to new heights. Oversized images of the actors are projected onto 14 enormous 16 x 9-foot screens on the auditorium's balconies. Read more about the set up in the case study.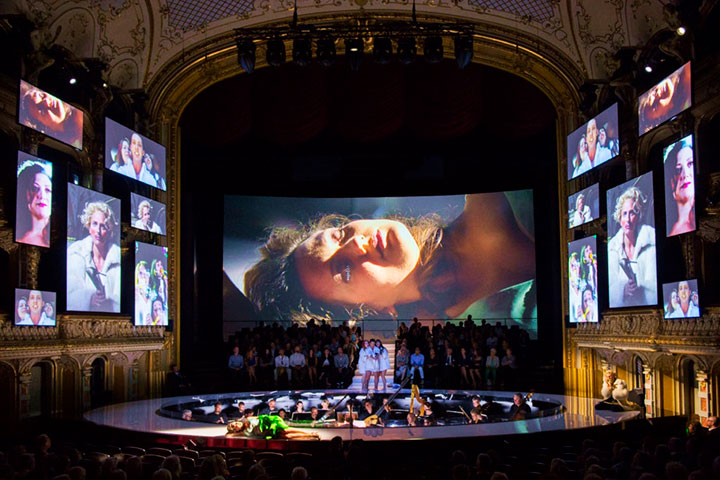 Photo: ©Opernhause Zurich AG/L'incoronazione di Poppea-Monika Rittershaus