VuWall Releases New VuStream 510 All-in-One SDVoE Encoder/Decoder
Two-Way SDVoE Streaming Appliance Brings Unique Flexibility for the Secure Transmission of Uncompressed 4K Video, Distributes HDMI and DisplayPort Sources Across AV Networks With a Single Compact Appliance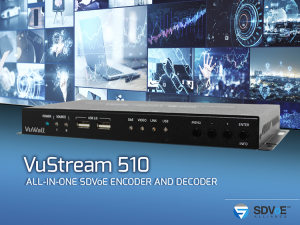 MONTREAL — Aug. 31, 2021 —  VuWall, a technology leader in video wall control systems and unified visualization solutions, today announced the expansion of its VuStream encoder and decoder family with the new VuStream 510 appliance. Fully SDVoE compatible, the VuStream 510 encodes and decodes in the same compact, all-in-one device, adding incredible flexibility to system design and workflows. It distributes 4K60 4:4:4 digital video and audio over standard IP network switches with no latency and supports DisplayPort and HDMI auto-switching.
"When we introduced the VuStream lineup, our goal was to provide customers with interoperable, flexible and open-standards-based appliances to support the various requirements found in a single application," said Mark Schmidt, CTO of VuWall. "The VuStream 510 continues that mission, accommodating customer needs by allowing organizations to replace traditional matrix switches with a more flexible, highly reliable and ultra-scalable solution."
Easy to deploy, the VuStream 510 series enables the extension, switching and compositing of real-time signals using standard 10Gb network hardware. Compared to proprietary matrix switches, this technology provides a new and improved way of distributing signals, which is ideal for projects where high quality and low latency are paramount. In combination with the VuWall TRx centralized management platform, this solution simplifies the management and deployment of devices, saving system integrators a significant amount of time and money.
As an SDVoE streaming appliance, VuStream 510 is interoperable with other third-party SDVoE-supported solutions. It is available in fiber (VuStream 510-F) and copper (VuStream 510-C) options, both supporting uncompressed 4K video streams in 4:4:4 video format, including HDR, with end-to-end AES 128-bit encryption for secure data transport. The comprehensive streaming device features transceiver mode — which enables it to encode and decode streams simultaneously — including a loop-through output. It is also fanless and supports USB 2.0 and HDCP 2.2 for the latest in connectivity and digital rights management.
"As an SDVoE member, VuWall exemplifies the steadfast commitment of the alliance to create SDVoE technology that brings interoperability in AV distribution and processing," said Justin Kennington, president of the SDVoE Alliance. "The VuStream 510 appliance accelerates the replacement of the traditional matrix switch while providing customers with incredible system design freedom that supports the highest quality and security of 4K video transmissions."
# # #
About VuWall
VuWall, a global technology leader in video wall control systems and unified visualization solutions, has pioneered the new disruptive hybrid technology, VuTrex™, that bridges AV, IT and IP systems to seamlessly manage and control visual content throughout organizations. VuWall delivers a state-of-the-art ecosystem of video wall controllers, encoders, and decoders — all managed by their unique TRx Centralized Management Platform, eliminating the complexity of traditional video wall control and signal distribution over IP, without any programming. VuWall is recognized for its innovative solutions that increase productivity and enhance visualization experiences in control rooms and corporate workspaces. The VuWall ecosystem, powered by VuTrex technology, sets a new industry benchmark in ease of use and deployment for the most effective distribution of any source to any type of display in professional and mission-critical applications. Its award-winning solutions power more than 2,000 video walls in some of the world's most prestigious Fortune 500 companies in more than 45 countries. VuWall is headquartered in Montreal, Canada and Tübingen, Germany. www.vuwall.com
About the SDVoE Alliance
SDVoE is an initialism for "Software Defined Video over Ethernet". The SDVoE Alliance is a nonprofit consortium of technology providers collaborating to standardize the adoption of Ethernet to transport AV signals in professional AV environments and to create an ecosystem around SDVoE technology allowing software to define AV applications. The alliance operates the free SDVoE Academy training platform, participates in tradeshows and conferences, publishes white papers and case studies and promotes SDVoE technology, and solutions based on the technology, to system integrators, designers, consultants and end users. Steering members of the SDVoE Alliance are Black Box, Christie Digital, IDK Corporation, NETGEAR, Semtech and ZeeVee. All interested parties are invited to join the alliance and work toward its goals. For more information, visit sdvoe.org or connect with us on Twitter @SDVoE, LinkedIn, and the SDVoE blog.
Topics
Media contact
Janet Matey
Marketing Coordinator
+1 (514) 446-2412