SDVoE adds high I/O density to its arsenal
The release of the PureLink IPAV Pro 1200 Series signals the final demise of the Matrix Frame
January 24, 2019 – For decades professional AV has been dominated by one particular product, the Matrix Switch. From the beginning it was seen as the only solution to our distribution needs and unchallenged in its position as the ubiquitous AV solution. Distribution of AV over network infrastructure has been threatening the Matrix for many years, but those threats always seemed hollow, as IP technology was simply not ready to deliver the quality and performance the Matrix was able to offer.
IP technology simply cut too many corners to pack the data in; extreme delay and low image quality to mention but a few. It seemed that IP technology was to be relegated to merely a cheap way to enable digital signage, but would never truly challenge the Matrix in any professional opinion.
With the advent of the 10G switch this attitude has changed. Product performance previously unheard of in its category, is suddenly available, but with all the flexibility of the Network approach. Now, the Matrix looks unable to compete.
The PureLink IPAV Pro Series at the Vanguard of this AV Paradigm Shift
After its introduction to the market on the ISE 2018 the IPAV Series from PureLink releases yet another unique form factor for SDVoE compatible devices – high density I/O with broadcast standard reliability. Following on from the success of our unique IPAV Pro rental and staging product line, this year we are focused on rack mountable SDVoE systems for Professional AV installations.
The Obstacle of High Density I/O Mastered
The one remaining feature of the matrix frame yet to be vanquished was its high density I/O; the ability to pack multiple ports into a small space. Until now, SDVoE or indeed any IP based system, has not been able to match this. Most systems rely on a Room Box style SKU which does not lend its self to rack mounting.
A single unit is never less than half rack size, meaning a maximum of only two I/O ports per 1U is the most compact it could be. So to match the I/O density of a standard 64 x 64 matrix (on average 22U in size), a system designer would need to make upwards of 32U available – a tall order in most people's design and generally not practical.
The IPAV Pro1200 Series cards utilise tried and tested broadcast standard infrastructure, in the form of the OpenGear OGX frame, to achieve an I/O density of 10 ports per 2U; outperforming the compact I/O performance of the fixed matrix frame, but with all the flexibility of the revolutionary SDVoE technology.
The IPAV Pro Series Form Factors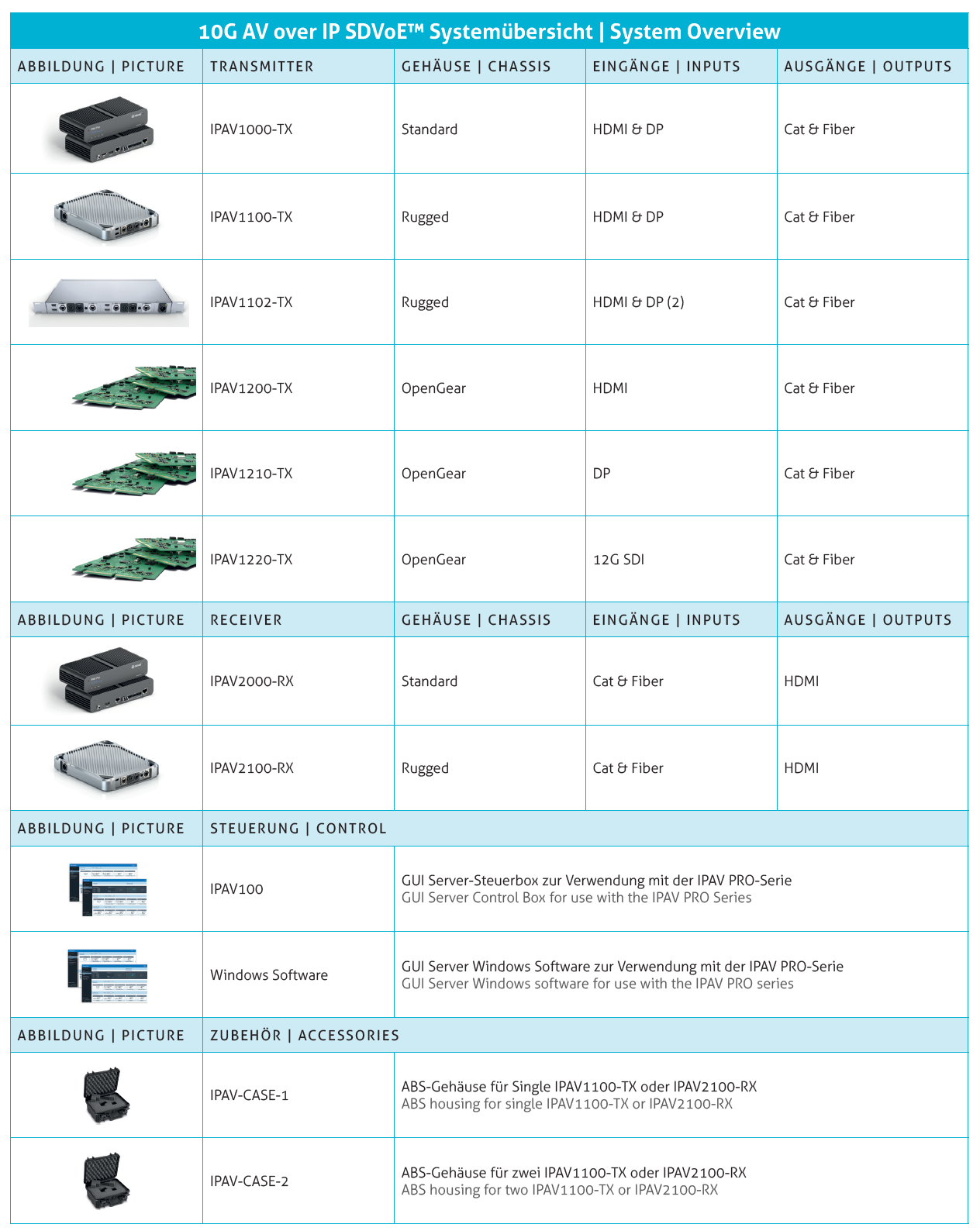 Company Information
PureLink GmbH develops, produces and markets products for professional presentation and media technology.
Since 2006 PureLink has been one of the international branch leaders for digital connectivity solutions, e.g.  HDMI cables and adapters, wireless HD, or optical glass fiber products.
As manufacturer and distributor, PureLink is partner of wholesalers, mail order companies, industry, electronics stores, and installers. The product portfolio comprises consumer equipment, as well as individual customer solutions. Professional products from leading international manufacturers complete the wide range of own-brand products.
At present, PureLink has 25 employees who take care of customers' demands worldwide.
The company's distribution and logistics centre is located at Rheine, Germany.
About OneAV
OneAV is the first and fast-growing pan-European specialist technology distributor of AV connectivity brands, supplying professional installers in residential and commercial markets. With offices, training and fulfilment centres in Germany, the Netherlands and the UK, OneAV provides localized marketing, education, and support for all stocked brands.
OneAV prides itself on being able to provide the highest quality solutions for any AV project, backed up with first-class technical knowledge and support that only a focused connectivity specialist can offer.
About the SDVoE Alliance
SDVoE is an initialism for "Software Defined Video over Ethernet". The SDVoE Alliance is a nonprofit consortium of technology providers collaborating to standardize the adoption of Ethernet to transport AV signals in professional AV environments, and to create an ecosystem around SDVoE technology allowing software to define AV applications. The alliance participates in tradeshows and conferences, publishes white papers and case studies and promotes SDVoE technology, and solutions based on the technology, to system integrators, designers and consultants. Training and installer certification are also part of the mandate. The SDVoE Alliance founding members are Aquantia, Christie Digital, NETGEAR, Semtech, Sony and ZeeVee. All interested parties are invited to join the alliance and work toward its goals. For more information, visit sdvoe.org and follow us on Twitter @SDVoE.
Topics
Media contact
Janet Matey
Marketing Coordinator
+1 (514) 446-2412